Shared Branch CO-OP Services
When you're not near a Tri Boro FCU location for any reason you can still get personal assistance to complete your basic transactions such as deposit, withdrawal, transfer, and loan payments. All you need is your Tri Boro account number with valid/non-expired driver's license or Identification card. You can visit one of the 5,000 nationwide locations to learn more or to locate a branch nearest to you click on the logo below or call 1-888-SITE-CO-OP. Please note locations may change. We recommend that you verify the location is still active before traveling there.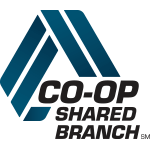 Park Tickets
Tri Boro FCU offers discounted Seasonal Park tickets. We offer Kennywood, Sandcastle, Idlewild and Soak Zone.
Kennywood Park Picnic: We have an annual Kennywood picnic in July, all members are welcome. Members will qualify for cash prizes, food, and giveaways!
24/7 Night Drops Locations
For your convenience we have a secured night drop at all branches, located right next to our ATMs. Instructions to use the night drop:
Ensure your deposit/payment is placed inside an envelope with your name, account number, and written instructions
To deposit lift the handle and drop the envelope in the slot
Anything dropped after 8:30am will be credited next *business day
Deposits or payments processed from the night drop are not backdated but credited on the date the credit union processes them.
*Business day = hours the credit union is open for business. (Please note weekends & holidays are days the credit union is not open and not considered business days).
Call Center
Our call center is available to you 363 days a year when our offices are not open. They can help with:
Account Balances
Go over history
Transfers
Consumer Loan Applications
Go to main navigation