Park Tickets
Unfortuntely, Tri Boro will not sell physical tickets this year. You can go online to purchase using our promo code "triborofcu" to buy at a discount rate.
Kennywood is discounted to $37.99 Flyer - Online Discounts
Idlewild is discounted to $35.99
Sandcastle is discounted to $34.99
TO PURCHASE TICKET(S):
STEP 1: Go to www.kennywood.com/promocode, www.idlewild.com/promocode, or www.sandcastlewaterpark.com/promocode
STEP 2: Click the 'Buy Now' button to advance to the next screen
STEP 3: Enter your '2023 Good Any Day Admission' ticket quantity
STEP 4: Enter your organization's Promo Code "triborofcu" in the 'Promotional Code' box, then click 'Apply'
STEP 5: Click 'Continue' to advance and complete the remaining steps to purchase your tickets!
Please visit each park's official webpage for up-to-date park operating dates and hours. Park operating dates, hours and prices are subject to change. Online offer only. No refunds or rainchecks for online orders.
Shared Branch CO-OP Services
When you're not near a Tri Boro FCU location for any reason you can still get personal assistance to complete your basic transactions such as deposit, withdrawal, transfer, and loan payments. All you need is your Tri Boro account number with valid/non-expired driver's license or Identification card. You can visit one of the 5,600 nationwide locations to learn more or to locate a branch nearest to you click on the logo below or call 1-888-SITE-CO-OP. Please note locations may change. We recommend that you verify the location is still active before traveling there. Also, please call into member services to let us know you will be using Shared Branching.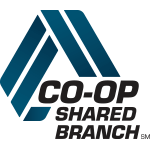 24/7 Night Drops Locations
For your convenience we have a secured night drop at all branch locations. Instructions to use the night drop:
Ensure your deposit/payment is placed inside an envelope with your name, account number, and written instructions
To deposit lift the handle and drop the envelope in the slot
Anything dropped after 8:30am will be credited next *business day
Deposits or payments processed from the night drop are not backdated but credited on the date the credit union processes them.
*Business day = hours the credit union is open for business. (Please note weekends & holidays are days the credit union is not open and not considered business days).
Our Munhall ATM will accept cash or check(s) deposits.
Free Credit Report
THIS NOTICE IS REQUIRED BY LAW. Read more at FTC.GOV. You have the right to a free credit report from AnnualCreditReport.com or 877-322-8228, the ONLY authorized source under federal law."
Take me to the authorized source
Go to main navigation